2021 Exam Preparation Courses and Spanish schools
don Quijote Barcelona

Address:
Calle Mallorca, 27 | 08029 Barcelona
Telephone:
+34 934 124 849
Website:
http://www.donquijote.org/en/spanish-courses/dele-exam
Details:
don Quijote Barcelona is the chic destination to learn Spanish in a cosmopolitan enviroment right on the Mediterranean Sea.
Barcelona has the charm of a cosmopolitan city on the Mediterranean, and it's home to one of the most important ports on the continent. Its main pedestrian street, Las Ramblas, will captivate you with its vibrancy any time of day or night. As you stroll through Las Ramblas, you will come upon the port dominated by a statue of Christopher Columbus. This is an excellent starting point to discover Barcelona's medieval history by visiting the Gothic Quarter.
The DELE school in Barcelona is located at Calle Mallorca 27, in the heart of Barcelona's lively, central L'Eixample District, home to Gaudi's Sagrada Familia cathedral; a collection of notable modernist architectural gems, including Gaudi's Casa Batlo and La Pedrera; and much of Barcelona's best boutique shopping. On foot, the school is 10 minutes from the Plaza de Espana, 10 minutes from the Plaza de Catalunya, and within walking distance of the city's bustling Gran Via. The Sants railway station, Barcelona's main railway terminal and a landmark building, is only 150 meters away!
The school building is spacious, with 2600 square meters generously spread over the 3 lower floors of a modern building. The school offers more than 55 bright and airy classrooms with a total surface area of 2000 square meters. The school also offers 600 square meters of common areas, including a large interior patio, which looks out through a glass wall onto the school's expansive private garden, complete with trees and terrace. The central interior patio offers comfortable seating and more than 20 computer terminals, making it a great stop for easy and free internet access at our terminals or linking up your own laptop to the school's free Wi-Fi. The patio is a popular spot to relax between classes while enjoying a drink or snack from the vending machines stationed throughout the school. The school's architectural details are top notch as well, with marble floors throughout the common areas and beautifully finished wood floors in the classrooms.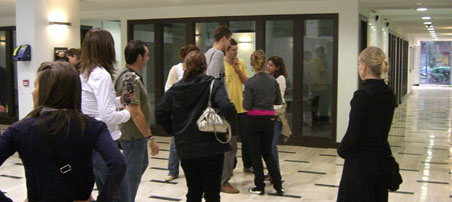 Categories:
don Quijote