2021 Exam Preparation Courses and Spanish schools
don Quijote Salamanca

Address:
Placentinos, 2 | 37008 Salamanca
Telephone:
+34 923 263 186
Website:
http://www.donquijote.org/en/spanish-courses/dele-exam
Details:
don Quijote Salamanca offers you a perfect environment to learn Spanish in Spain and earn the official DELE certification
don Quijote Salamanca school is housed in a restored ancient monastery located in the old city center. Modern building materials have been incorporated within the original golden stone structures, including the school's garden terrace, creating a balanced atmosphere to learn and practice Spanish with your friends.
You enter the school through a beautiful courtyard that leads you to the garden terrace. The courtyard and the garden divide the school into three parts: the offices, the cafeteria, and the classrooms. The main classroom building has a computer lab and a library as well as free Wi-Fi. You are welcome to use a free classroom after the day's lesson to prepare for your DELE exams alone or with your new friends.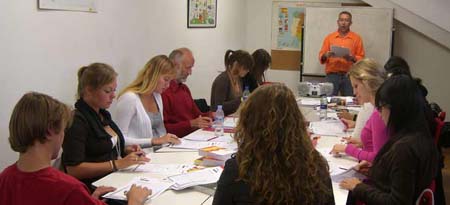 Categories:
don Quijote