Preparation Courses and Schools for DELE Exams
don Quijote Tenerife

Address:
Avda. de Colón, 14, 38400 Puerto de la Cruz (Tenerife)
Website:
http://www.donquijote.org/en/spanish-courses/dele-exam
Details:
don Quijote Tenerife school introduces us the mixed races and the bridge from Spain to Latinamerica. Your D.E.L.E course will be between two worlds.
don Qujote Tenerife is housed in the Bélgica building, in front of "lagos Martiánez" and the beach. It takes only ten minutes to get to the Puerto de la Cruz City Hall. The school is made up of seven lit classrooms and offers all of the don Quijote school comforts.
Puerto de la Cruz is a typical city on the island of Tenerife, part of the Canary Islands. It is located in the north end of the island, crossed by a mountain range whose highest summit is a volcano called el Teide. The volcanoe's influence is noticeable throughout the island, as it gives the landscape a special moon-sytle landscape. The best place to prepare your D.E.L.E. examinations as you enjoy the black sandy beaches.
Duration
DELE CIE: 2 Weeks
DELE DIE: 2, 3 or 4 Weeks
DELE DSE: 2, 3 or 4 Weeks
Frequency per week
20 classes per week
If you want more information, click here.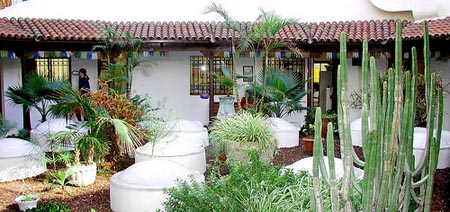 Categories:
don Quijote